New Patients at Spine and Laser Center
Welcome to Your First Visit!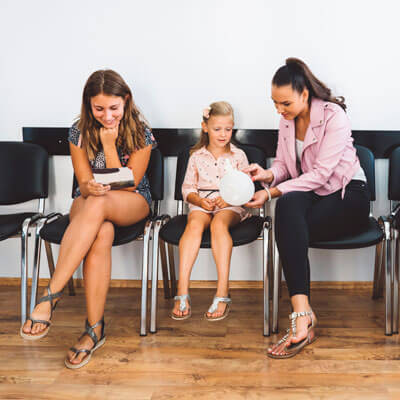 Your first visit to Spine and Laser Center should take about an hour.
Want to save some time? Fill out our new patient paperwork–you can print and complete it at home. Don't forget to bring it with you to your first visit.
We want to know as much about what's causing your pain. If you have X-rays, MRI images or any reports that might help us, please bring them with you.
ONLINE FORMS »

Let's Talk About Your Health History
Once your paperwork is all set, you're invited in to meet Dr. Singh. Now's the time to discuss any health or pain issues you're currently experiencing.
You'll want to share your medical history and any experiences you may have had with chiropractic care. "I'll ask you various questions to get a better picture of how best to help you. This is a good time for you to ask any questions you might have too."
Time for Your Exam
After your initial discussion is complete, Dr. Singh will move on to the examination. "During this phase, I'll be looking closely at your conditions, your symptoms, your range of motions and more."
If necessary we may schedule you for X-rays or an MRI. If not, we'll start on the first phase of your care to work towards pain relief.
If You're Ready, We're Ready
Dr. Singh knows that his patients want relief today. After we discuss what we've found and how we can help we'll start. You might experience one or all of the following on your first visit.
Spinal adjustments
Physical therapies
Soft tissue therapies
Follow up Visits
Some patients can be helped with a single visit; others may need a series of follow up visits for full recovery. Dr. Singh will discuss this with you before you leave your first visit.
"I'll send you home with some homework to help with your recovery. Your homework will typically consist of a set of a few simple exercises to practice in the comfort of your own home.
Most follow up visits last about 45 minutes.
CONTACT US »

New Patients at Spine and Laser Center | (703) 464-5597