The DRX9000 at Spine and Laser Center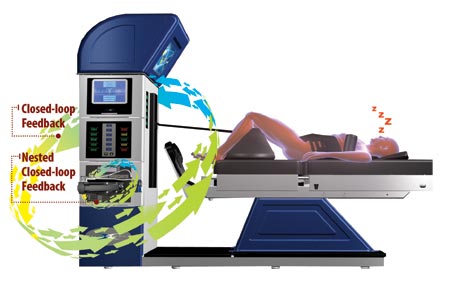 The DRX9000 True Non-Surgical Spinal Decompression System™ provides a primary treatment modality for the management of pain and disability for patients suffering with incapacitating low back pain and sciatica. It is designed to apply spinal decompressive forces to compressive and degenerative injuries of the spine.
Non-surgical spinal decompression treatment involves a series of stretching/relaxation cycles aimed to relieve the pain and symptoms associated with herniated discs, bulging discs, sciatica and facet syndrome through unloading due to distraction and positioning.
High-Speed Nested Closed Loop Feedback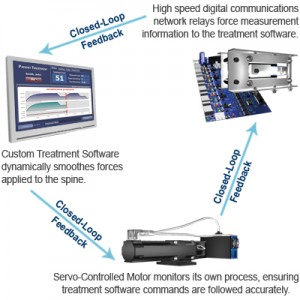 Sophisticated Servo Motion Control
Custom Dynamometer and Feedback Electronics
Windows / PC-based Treatment Algorithms and Application
Floating Lower Mattress (Split Table Design)
Hardened Steel Shafting and Steel Bearings to reduce friction as much as possible
The DRX™ device series incorporates closed-loop feedback within a closed-loop feedback system, referred to as nested closed-loop feedback. As illustrated above, one of the three stops on the closed-loop feedback path in the DRX™ devices is the servo-amplifier and servo-motor. The servo-amplifier receives corrective force commands from the treatment computer 13 x per second. The servo-motor itself contains very accurate devices that measure force, speed, and power consumption. The servo-amplifier monitors these variables, correcting the actions of the servo-motor 4,000 x per second. The nested closed-loop feedback system is one of the technological hallmarks of the DRX™ device series.

The DRX9000 Herndon VA | (703) 464-5597