Chiropractic Care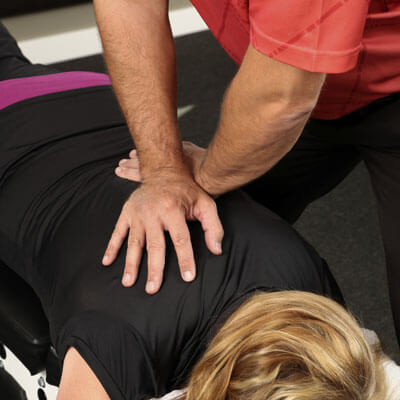 Your spine is a physical structure that has 24 mobile parts. The things you do and the way you do them (e.g., sleeping and standing) can cause misalignments of your vertebrae. When they get restricted your spine continues to malfunction in that way. Chiropractic care helps you align that spine properly and restores that function.
Dr. Singh will perform a comprehensive exam to determine where the problem lies.
Our Techniques
At our office, Dr. Singh is highly skilled in an array of adjusting techniques. As he attended Palmer College of Chiropractic, he mainly uses the Palmer Package collection of techniques. These include the following:
Palmer Package
Diversified
Thompson Technique
Gonstead Technique
Impulse Adjusting
My goal is to help restore everything to where it should be so patients can start functioning the way that they should."
Dr. Singh
Adjunctive Therapies
As your spine isn't just merely bones–there are tissue, nerves, ligaments, muscles and tendons– we need to address every single aspect of them. These adjunctive therapies help us support that.
To help get the best results for our patients we are pleased to offer many modern therapies. These include the following:
Extracorporeal Pulse Activation Technology is a highly advanced and effective non-invasive treatment method uses proprietary technology that's based on a unique set of pressure waves that stimulate the metabolism, enhance blood circulation and accelerate the healing process.
The K-Laser was the first to employ three infrared wavelengths simultaneously of 800 nm, 905 nm, and 970 nm and combine them with a 660 nm visible beam. These Four Wavelengths are more efficient, healing the tissue while also aiding in pain relief. Combine this with Three Distinct Delivery Modes (Continuous Wave, Frequency Modulated, and Intense Super Pulse), and you have a therapeutic laser solution that offers as much variety as the conditions and patients you treat.
K-laser can help with
Tendinopathies
Carpal Tunnel Syndrome
Myofascial Trigger Points
Lateral Epicondylitis (Tennis Elbow)
Ligament Sprains
Muscle Strains
Repetitive Stress Injuries
Chondromalacia Patellae
Plantar Fasciitis
Rheumatoid Arthritis
Osteoarthritis
Shoulder, Back & Knee Pain
Herpes Zoster (Shingles)
Post-Traumatic Injury
Trigeminal Neuralgia
Fibromyalgia
Diabetic Neuropathy
Venous Ulcers
Diabetic Foot Ulcers
Burns
Deep Edema / Congestion
Sports Injuries
Auto & Work Related Injuries
Dr. Singh has had patients with acute ankle sprains and after a couple of visits, they're back to walking again!
This new approach to pain management uses magnets to create pulsing, moving energy. These energy waves could change the way your body copes with pain.
This non-invasive therapy is designed to treat patients with disc herniation. It helps restore those discs to normal over the course of 20 treatments. Dr. Singh finds it fulfilling to help his patients restore their herniations without surgery. He's seen pre and post images of patient and can see a 100% reduction in disc herniations.
Tailoring Care to Each Patient
Your chiropractic care will never be the same as another patient's care. We will work to meet your needs, not try to fit a particular technique to the patient.
Contact us today to schedule an appointment for chiropractic care!
CONTACT US »

Chiropractic Care | (703) 464-5597