DRX9000 Treatment at Spine and Laser Center
What can I expect during treatment?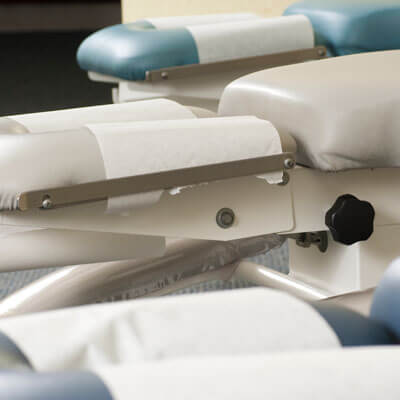 During each 30-minute treatment session the patient relaxes comfortably on a heavily-padded bed. After being secured into position by an upper and lower body harness, the patient can completely relax by watching a DVD, listening to music, or simply taking a nap. Typically, each 30-minute session is divided into 18-phases where spinal decompressive forces alternate between a maximum and minimum therapeutic level. The cycling of forces in this manner appears to create a pumping action that simulates the natural processes responsible for nourishing the intervertebral disc.
Who are the best candidates for treatment?
Patients that will benefit most from the DRX9000 True Non-Surgical Spinal Decompression System™ may be those diagnosed with herniated discs, bulging discs, sciatica, degenerative disc disease or facet syndrome.
What can I expect during the course of treatment?
Some patients may experience light side effects with this type of therapy. Mild muscular soreness during treatment may occur. The sensation would be similar to what a person might experience at the onset of a new exercise regimen. Most patients find this therapy quite comfortable and relaxing. During an average 30-minute session, most patients experience a gentle stretch in the lumbar spine and tend to fall asleep. Adjunctive therapies to spinal decompression typically include electrical stimulation and cold laser therapy. Exercise and/or the use of a lumbar support belt are often prescribed to support the benefits of spinal decompression therapy and improve patient compliance.
If you have questions not answered here, call Spine and Laser Center or email us here.
CONTACT US »

DRX9000 Treatment Herndon, Reston VA | (703) 464-5597